Цитаты на английском с переводом про мечты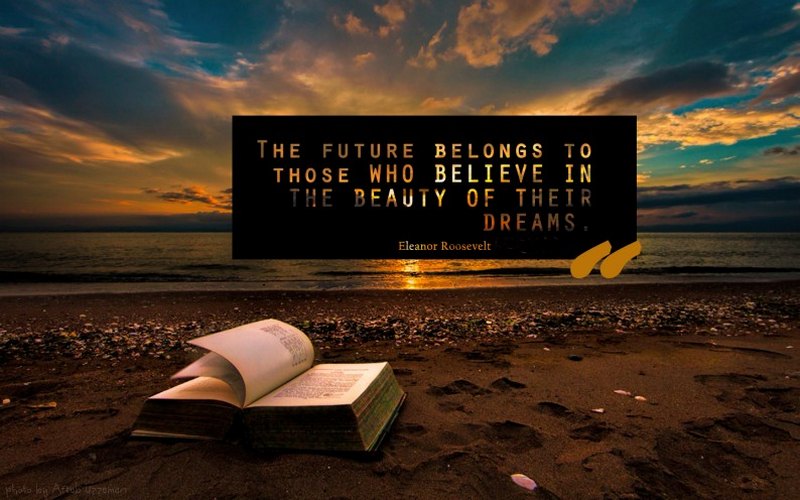 My dreams come true. – Мои мечты сбываются.
An artist is a dreamer consenting to dream of the actual world. – Художник – это мечтатель, согласившийся мечтать о реальном мире.
Build your own dreams, or someone else will hire you to build theirs». – Воплощайте собственные мечты, или кто-то другой наймёт вас, чтобы воплощать свои. (Фаррах Грей)
Families is where our nation finds hope, where wings take dream. – Семья, это где наша нация находит надежду, где крылья обретают мечту.
It's better to have ideals and dreams than nothing. – Лучше мечты и идеалы, чем ничего.
Самые хорошие цитаты на английском языке с переводом про мечты
We need men who can dream of things that never were. – Нам нужны люди, которые могут мечтать о вещах, которых никогда не было. (Джон Кеннеди)
Don't leave a stone unturned. It's always something, to know you have done the most you could. – Испробуй все возможности. Всегда важно знать, что ты сделал все, что мог.
Always dream and shoot higher than you know you can do. Do not bother just to be better than your contemporaries or predecessors. Try to be better than yourself. – Всегда мечтайте и стремитесь превысить предел ваших возможностей. Не ставьте целью быть лучше, чем ваши современники или предшественники. Стремитесь быть лучше самих себя. (Уильям Фолкнер)
Цитаты на английском с переводом про мечты - Aim at the sun, and you may not reach it; but your arrow will fly higher than if aimed at an object on a level with yourself. – Целься в солнце и, может быть, ты промахнешься, но стрела твоя полетит выше, чем если бы ты целился в предмет на одном с тобой уровне.
Yesterday is but today's memory, tomorrow is today's dream. – Вчера – это память сегодняшнего дня, а завтра – это сегодняшняя мечта.
A dream is just a dream. A goal is a dream with a plan and a deadline. – Мечта - это просто мечта. А цель - это мечта, имеющая план действий и срок исполнения.
The future belongs to those, who believe in beauty of their dreams. – Будущее принадлежит тем, кто верит в свои мечты.
I'm a dreamer. I have to dream and reach for the stars, and if I miss a star then I grab a handful of clouds. – Я должен мечтать и тянуться к звездам, а если я не могу поймать звезду, я хватаю пригорошню облаков.
Never stop dreaming. – Никогда не переставай мечтать.
Follow your dreams. Unless it's a person... apparently they call that stalking. – Следуй за своей мечтой. Только если это не человек, вероятно, это могут назвать преследованием.
Focus in what you want to have happen. – Сфокусируйся на том, чего очень хочешь.
It is not true that people stop pursuing dreams because they grow old, they grow old because they stop pursuing dreams. – Неправда, что люди перестают мечтать, потому что стареют; они стареют, потому что перестают мечтать.
Be careful what you wish for cause you just might get it. – Будь осторожен в своих желаниях, ты ведь можешь получить это.
Only my dream keeps me alive. – Меня греет только моя мечта.
All our dreams can come true, if we have the courage to pursue them. – Все наши мечты могут стать реальностью, если у нас будет достаточно смелости им следовать. (Уолт Дисней)
Dreams do come true, if we only wish hard enough. You can have anything in life if you will sacrifice everything else for it. – Мечты действительно сбываются, если мечтать достаточно усердно. Можно иметь все, что угодно, если вы пожертвуете всем остальным.
Get and stay out of your comfort zone. ― Выбирайся из зоны комфорта и держись от нее подальше.
I have not failed. I've just found 10,000 ways that won't work. — Я не терпел неудач. Я просто нашел 10 тысяч способов, которые не работают. (Томас Эдисон)
When you're ready to quit, you're closer than you think. – Как раз когда ты готов все бросить, ты ближе всего к победе.
There are many talented people who haven't fulfilled their dreams because they over thought it, or they were too cautious, and were unwilling to make the leap of faith. – Есть много талантливых людей, которые не исполнили свои мечты, потому что думали об этом слишком много или были слишком осторожными и не хотели совершить прыжок к славе.
Never give up. – Никогда не сдавайся.
Too many of us are not living our dreams because we are living our fears. – Слишком многие из нас не живут своими мечтами, потому что мы живем нашими страхами.
Avoiding the phrase «I don't have time...», will soon help you to realize that you do have the time needed for just about anything you choose to accomplish in life. – Отказавшись от фразы «У меня нет времени…», вы скоро поймете, что у вас есть время практически для всего, что вы посчитаете нужным сделать в жизни.
Do not wait; the time will never be 'just right.' Start where you stand, and work with whatever tools you may have at your command, and better tools will be found as you go along. — Не ждите, время никогда не будет «подходящим». Начните прямо сейчас, и работайте теми инструментами, которые есть сейчас в вашей команде, а лучшие орудия будут найдены, когда вы будете двигаться вперед. (Джордж Герберт)
Цитаты на английском с переводом про мечты и успех - Success is one percent inspiration, ninety-nine percent perspiration. — Успех — это один процент вдохновения и девяносто девять процентов пота.
You see things and say 'Why?', but I dream things and say 'Why not?' — Ты видишь и спрашиваешь «Почему?», а я мечтаю и говорю «Почему нет?»